各位若不嫌棄我的書法不夠美觀工整的話。歡迎免費下載,日常生活中一起靠主得勝, 與 神同在。Please Feel Free To Download these Bible Scripture Calligraphy handwritten by me.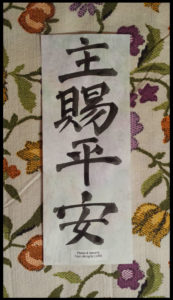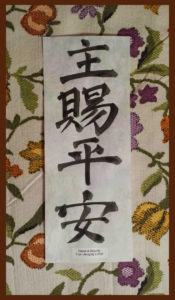 Peace & Security In Christ 主賜平安 Free Download.  I wrote many of these and post on walls, doors, everywhere in my house and office. Being Blessed All The Time
我寫了許多這一帖,張貼在我的家裡和辦公室的牆上,門上,上帝的恩典 無處不在。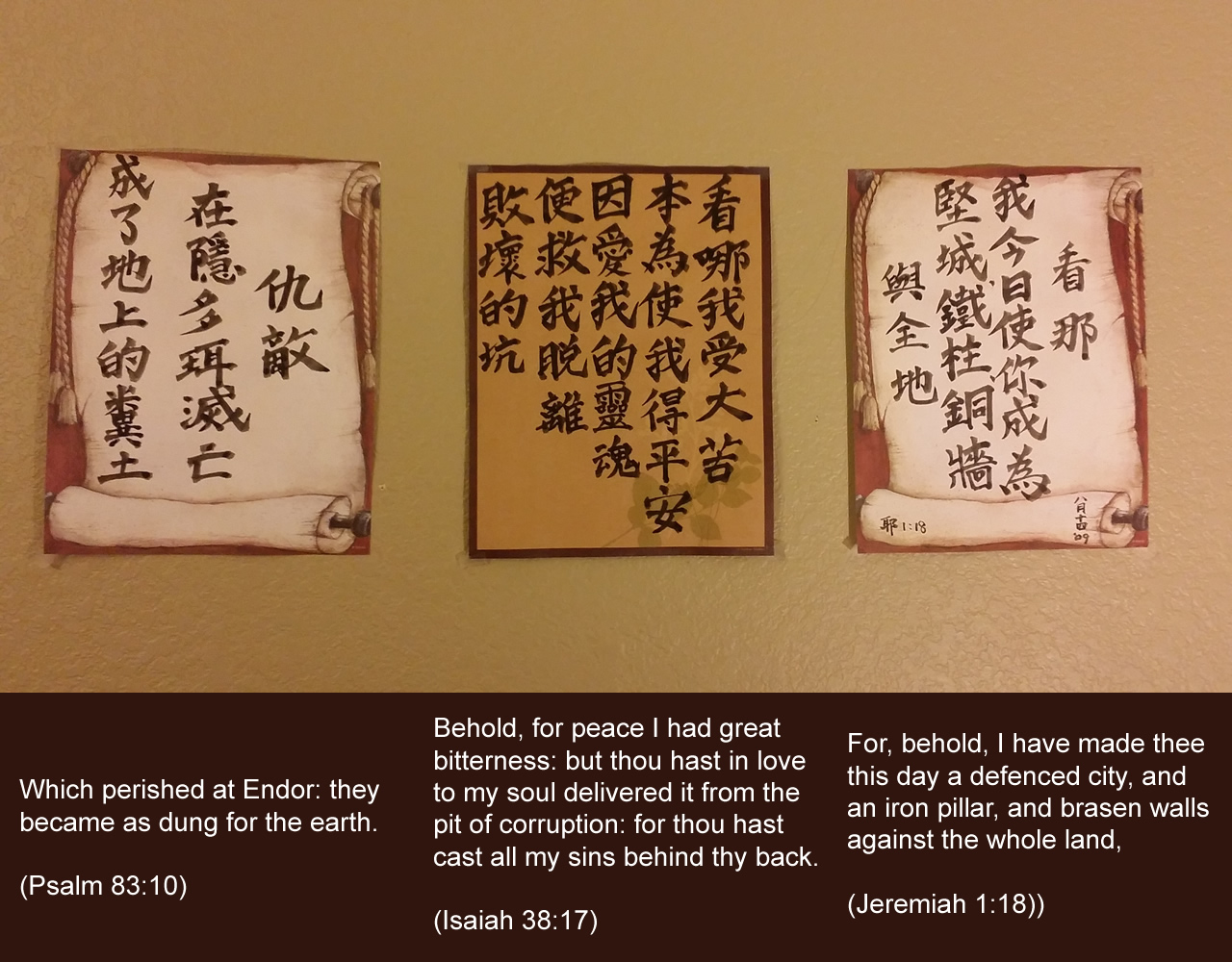 I post these in front of my desk inspires me keep going
For, behold, I have made thee this day a defenced city, and an iron pillar, and brasen walls against the whole land, (Jeremiah 1:18))
Behold, for peace I had great bitterness: but thou hast in love to my soul delivered it from the pit of corruption: for thou hast cast all my sins behind thy back. (Isaiah 38:17)
Which perished at Endor: they became as dung for the earth.(Psalm 83:10)
貼在我的辦公桌前激勵我繼續前進
看哪、我今日使你成為堅城、鐵柱、銅牆、與全地、(耶利米 1:18)
看哪 、 我受大苦、本為使我得平安、你因愛我的靈魂、便救我脫離敗壞的坑、 因為你將我一切的罪、扔在你的背後。(以賽亞 38:17)
仇 敵 在 隱 多 珥 滅 亡 、 成 了 地 上 的 糞 土 。(詩篇 83:10)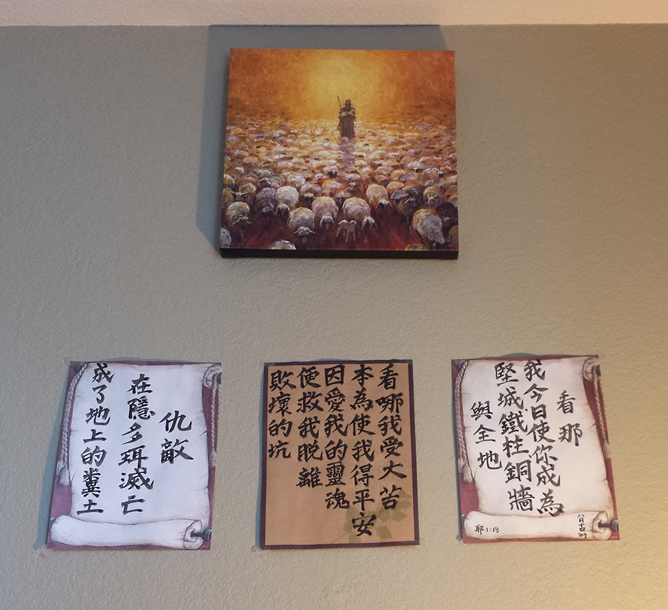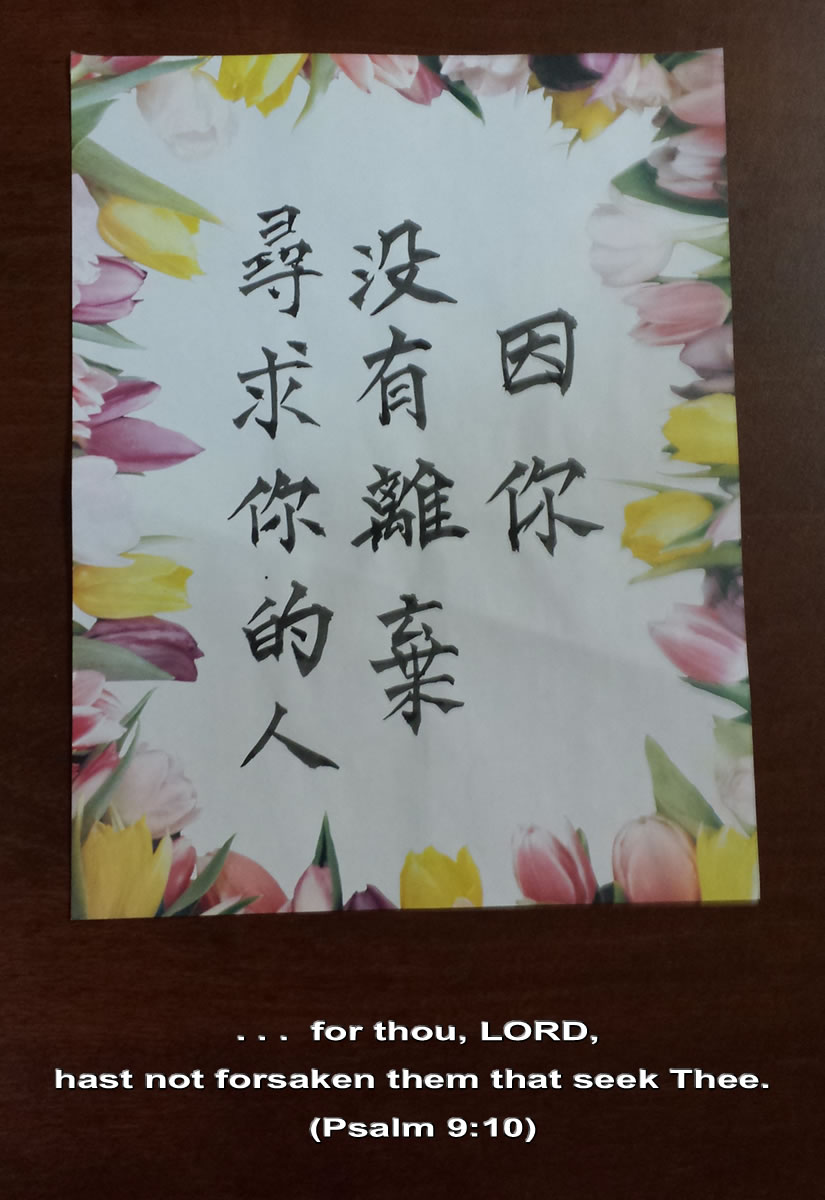 After 2008 recession, I was seeking directions how to continue our business YinPo. Holy Spirit inspired me this scripture. I then handwritten down. . ".for thou, LORD, hast not forsaken them that seek Thee. "(Psalm 9:10)
2008年的經濟衰退後,我正在尋求方向如何繼續我們的YinPo業務。聖靈啟發了我這段經文。然後,我手寫了下來。。。"為你耶和華, 你沒有離棄尋求你的人。" (詩篇 9:10)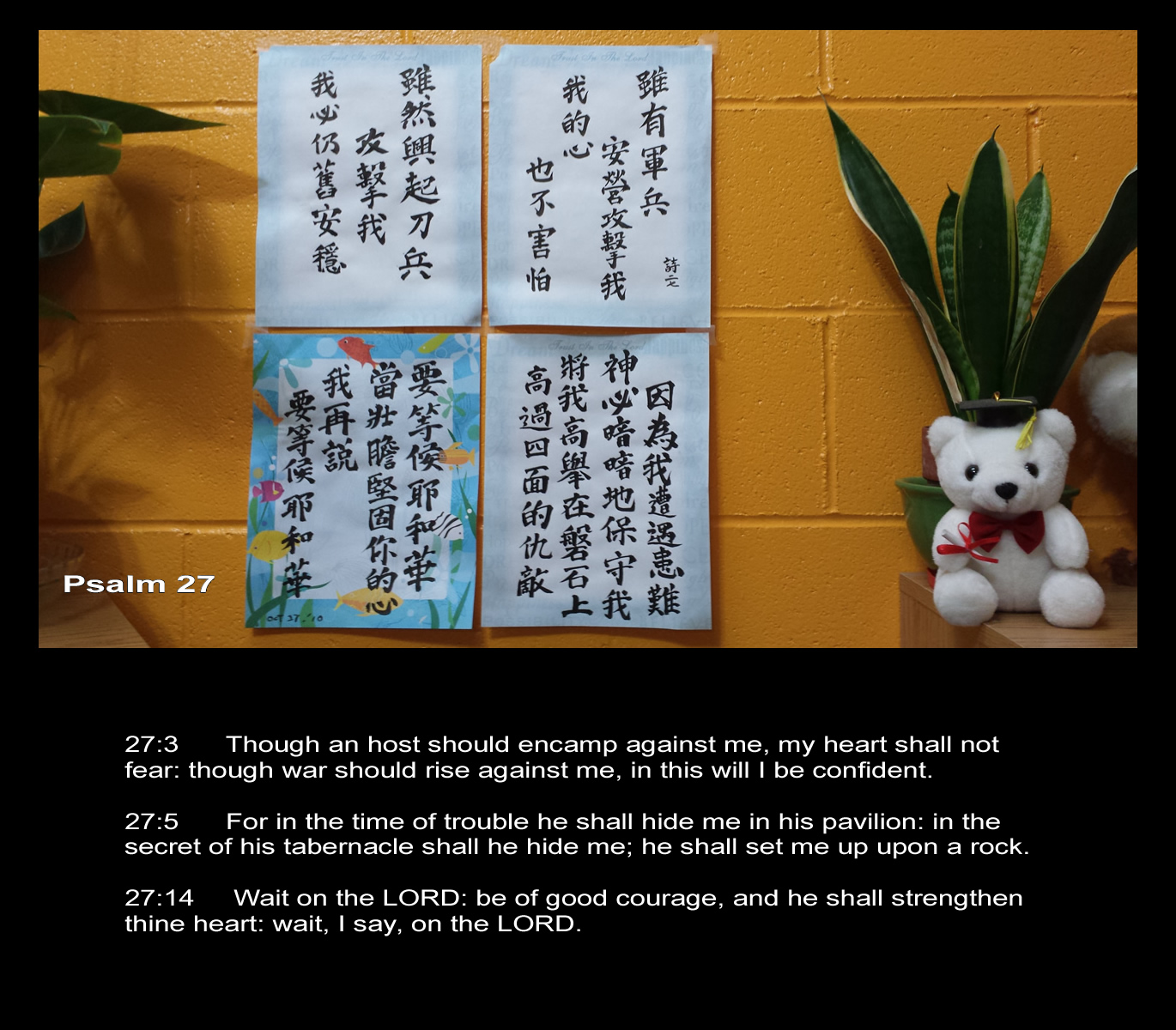 After 2008 recession. Revenue was very bad. Warehouse needed money to replace new electrical wiring. City came for inspection on behalf of safety sake and …….
This was the God's words kept me going By Faith. "Wait on the LORD: be of good courage, and he shall strengthen thine heart: wait, I say, on the LORD." (Psalm 27)
金融危機後,沒有錢裝新電線,倉庫被停電. 聖靈啟發了我這段經文, 憑信心繼續走下去 (詩篇 27) "雖有軍兵安營攻擊我、我的心也不害怕.雖然興起刀兵攻擊我、我必仍舊安穩。"
"要等 耶和華  當壯膽、堅固你的心.我再說、要等候耶 和 華 。"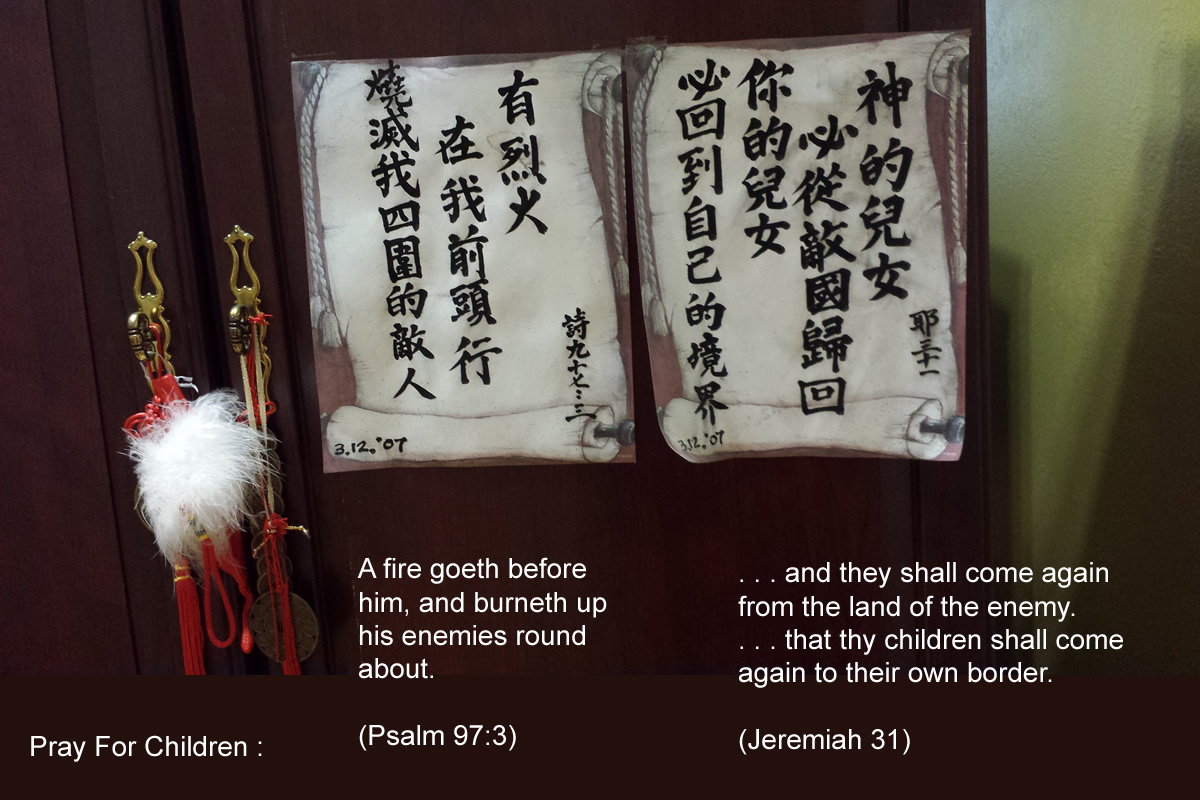 How I pray for my children.
again from the land of the enemy.
. . . that thy children shall come again to their own border. (Jeremiah 31)
A fire goeth before him, and burneth up his enemies round about.(Psalm 97:3)
我如何為孩子祈禱
 耶 和 華 說 、 你 末 後 必 有 指 望 、 你 的 兒 女 必 回 到 自 己 的 境 界 。
他 們 必 從 敵 國 歸 回 . 這 是 耶 和 華 說 的 。(耶利米 31)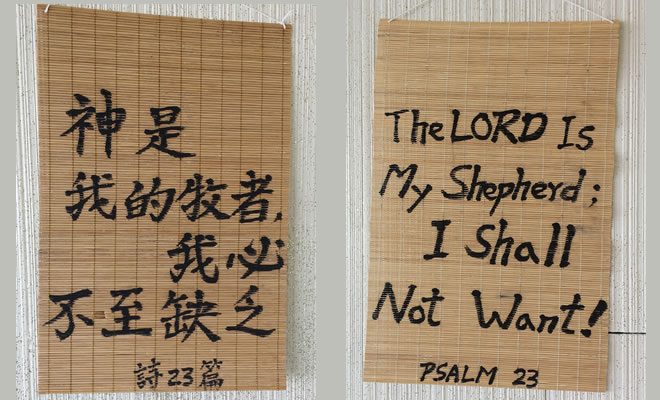 These two bamboo handwritten calligraphy was for the Christian Art "The Shepherd Painting" exhibition  presentation.  Psalm 23 "The Lord Is My Shepherd)
詩篇23
耶和華是我牧者 我必不致缺乏。 使我躺臥青草地 在安歇的水邊。 祂使我靈魂甦醒 引我走正義路。 我雖過死蔭幽谷 也必不怕遭害。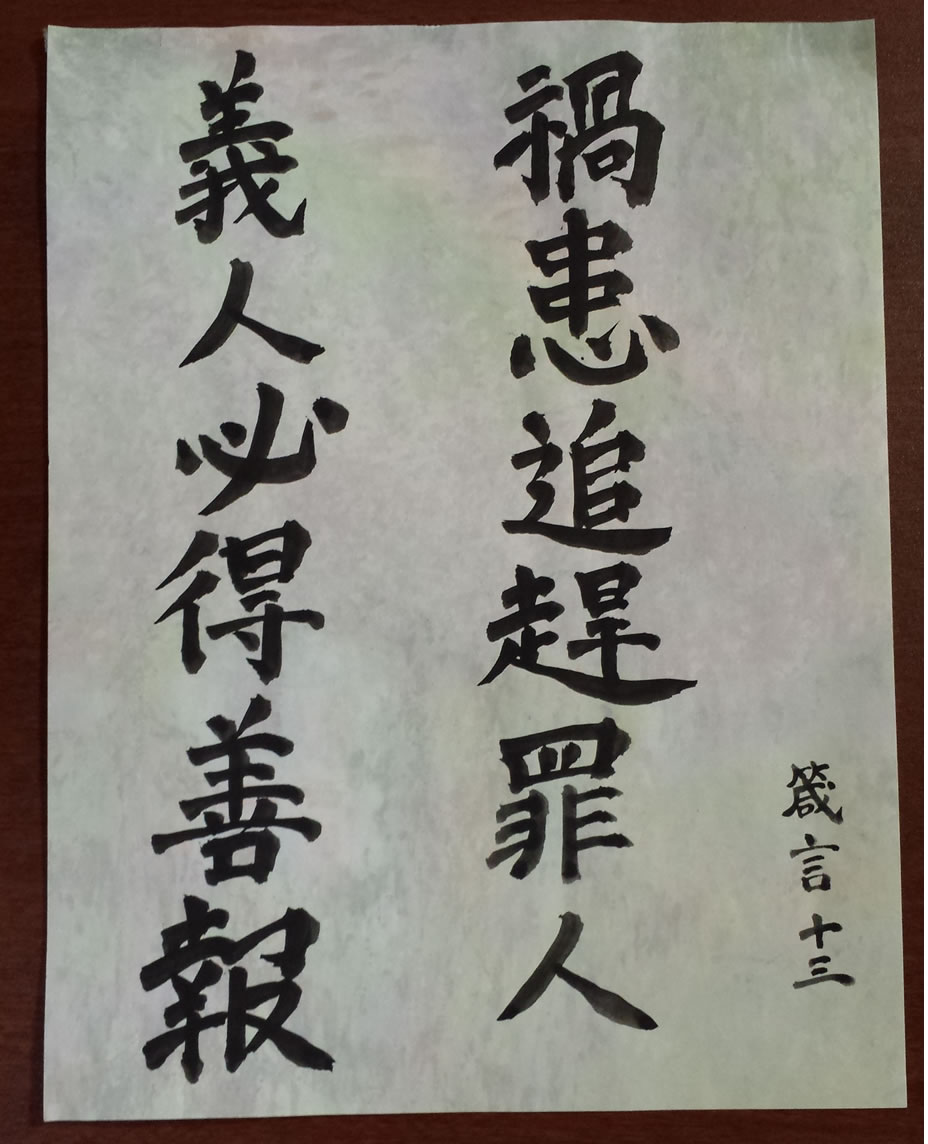 My Spiritual Journey, While People Betrayed Me, Holy Spirit Lead Me This Scripture To Pray with "Evil pursueth sinners: but to the righteous good shall be repayed.  (Proverb 13:21)
我的傷痛之旅,當人們背叛出賣我,聖靈引導我這經文與禱告